Love Your Liver
Our liver is vital to our life and sometimes it needs our help. Our bodies have too much access to chemicals whether it's in makeup, the air we breathe, or the food we eat. Even if you eat pure organic food, you don't know whose hands have been on that food (even if you wash it).
So sometimes our bodies need an extra boost. A great way to boost your liver is to place certain crystals over it while laying down.
Crystals For The Liver
Loving your liver #crystalhealing #health https://t.co/RaJ65sUmgJ

— Johnna Sabri (@JohnnaSabri) September 20, 2017
Ber
yl (all forms): Beryl includes aquamarine, heliodor, emerald, morganite, phenakie, goshenite and any beryllium mineral.
Beryl helps the organs of elimination and filtering. It is soothing and relaxing. It will help you increase your resistance to toxins.
Bloodstone: also known as heliotrope, this awesome mineral is a cleanser. It detoxes the liver, energizes the body and supports blood flow. It supports the circulatory system and helps the body to remove toxins.
Carnelian: this gem is filled with pure life force energy (all your organs can use a dose of that!) and regulates bodily fluids. It helps you absorb vitamins, too.
Red Jasper: red jasper is vibes well with carnelian in the pure life force energy boosting action. It detoxes the liver, the blood and your circulatory system. It also dissolves blockages in the liver and bile ducts.
Danburite:  This gem helps clear up allergies while detoxifying the liver and gallbladder. It's a soothing gem that helps bring love and light into your body.
Charoite: this gem will take negative energy from disease and transmute it into wellness. It helps reverse any liver damage and reenergizes the body when you are exhausted from fighting any illness.
I noticed that Carnelian, Bloodstone, and Red Jasper are all about vitality. They are also root and sacral chakra gems. Bloodstone is also a heart chakra gem.
The heart regulates pumps the blood flow so keep in mind while you are detoxing your liver, you want your blood flow to be at it's best, too.
When doing any detox, be sure to drink plenty of water as our bodies are made of water. And always talk to a doctor before doing anything  (and no, I'm not a doctor just a crystal nut).
Need On The Go Protection?
The Gem Diva's Guide To Healing Crystals For On The Go Protection
Are you too busy to meditate? Do you miss meals because you simply do not have time to sit down and eat (much less meditate?). Do you feel drained, tired and exhausted all the time?
If this is you, then I created this quick and easy guide for you. This guide covers:
My 10 go to crystals
A quick meditation
I AM affirmations that I use
Using essential oils with crystals
And more!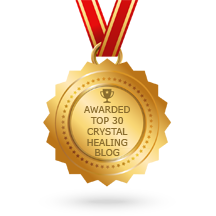 About Johnna Sabri
The Gem Diva
Hi, I am the owner of The Gem Diva's Rock Shop & Studio and this is my blog. I've been wire wrapping over 10 years and my story is unique since I've had a Grammy winning musician teach me the craft. Read more in my bio here.
Earthy Elegance and Beauty
I listen to every gemstone and crystal to create a unique and one of a kind design that speaks to your soul with earthy elegance and beauty.
How It Works
I have a wide selection of crystals to choose from or if you have your own I can design something with it. I'll deduct shipping out of the cost (shipping your crystal to me).
You also have several metal options to choose from. My pricing guide is below, as well as a special pendant deal.
Custom Pendant Deal with Free Crystal $29
Your pendant is designed with copper and you can choose one of the following crystals:
Rose Quartz
Green Fluorite
Raw Emerald
Clear Quartz
Citrine
Amethyst
and more!