Healing Your Soul With Patchouli Essential Oil
Patchouli Oil Enhances More Than Just Meditation
Essential oils are great enhancers to meditation and my go to for grounding, balancing the earth star, root and sacral charkas is Patchouli essential oil.
I often mix it with frankincense, orange, and jasmine because these three scents combined smell like absolute heaven for me which inspired me to do a post about this grounding oil.
Some Benefits of Patchouli
Cooling Fevers is something Patchouli is known for as well as helping relieve you from inflammation from fevers. You can also rub it on site where arthritis pain is to help soothe your bones and muscles.
Patchouli is antiseptic and will help an open wound fight off infection if you don't have any antibiotic cream on hand. I didn't know this a few months ago when I cut my finger and had my patchouli mix on hand. My finger healed up with no problems.
If you need an extra help setting the mood–you know, the baby making mood–patchouli is a well known aphrodisiac.
This amazing oil is also known to help your body produce new cells, including red blood cells which boost energy levels.
Food absorption is easier done with the aide of this earthy oil. Simply rub some on your tummy after eating and patchouli will help your body decompose food, tone up the liver and stimulate smooth digestion flow.
Healing Crystals That Pair Well With Patchouli
While Patchouli helps you feel stable and grounded, I think Amethyst is a great gem to pair with this lovely oil. Amethyst opens up both the crown and third eye chakras, helps you tap into your intuition and protects you from psychic attacks.
Black Tourmaline is my go to for grounding and protection so I often use this with patchouli, as well. In fact I always have this gem on my person at all times. You never know when you need that extra protection.
Pyrite is a fiery gem of energy that will enhance your digestive system and stimulate life force energy. It also creates a shield of protection around your aura.
Obsidian is another great grounding crystal that pairs nicely with patchouli and like pyrite, obsidian also creates a protective shield around your aura. Obsidian will take you inward to the deep recesses of your soul. If you are not ready to face some things, then get ready because Obsidian is taking you right there, but will keep you grounded and stable throughout the whole process.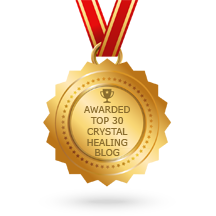 About Johnna Sabri
The Gem Diva
Hi, I am the owner of The Gem Diva's Rock Shop & Studio and this is my blog. I've been wire wrapping over 10 years and my story is unique since I've had a Grammy winning musician teach me the craft. Read more in my bio here.
The Gem Diva's Jewelry Club
The Gem Diva's Jewelry Club is an affordable way to grow your handmade wire jewelry collection. I love making jewelry and want to spread the love and light through my creations.
Each month, you will receive two beautiful pieces of handmade jewelry from me. There are a variety of styles and all will be made with real healing crystals, cleansed and blessed with a loving intention set for you.
Free Gift--Just Take IT!
Sign up and get three guides I've written about healing metals, my guide to buying wire jewelry and some crystals in my personal collection.
You Get:
1. Let's Get Stoned! This is an introductory guide to some of the crystals in my collection.
2. Guide To Buying Wire Wrapped Jewelry. This shows you types of jewelry, meaning of words such as gold filled and gold plated, and much more.
3. Metal Power. This talks about the healing properties of metals. Crystals are not the only ones that heal, ya know.
And you also get free updates on minerals, crystals, spiritual growth and so much more!
Earthy Elegance and Beauty
I listen to every gemstone and crystal to create a unique and one of a kind design that speaks to your soul with earthy elegance and beauty.
How It Works
I have a wide selection of crystals to choose from or if you have your own I can design something with it. I'll deduct shipping out of the cost (shipping your crystal to me).
You also have several metal options to choose from. My pricing guide is below, as well as a special pendant deal.
Custom Pendant Deal with Free Crystal $29
Your pendant is designed with copper and you can choose one of the following crystals:
Rose Quartz
Green Fluorite
Raw Emerald
Clear Quartz
Citrine
Amethyst
and more!