You Can Do It!
This Mercury Retrograde has been one from hell for me. The first day of retrograde our truck was stolen. Everything literally fell apart for us in Houston so fast we couldn't blink.
They say you're not supposed to travel or make important life changing decisions, buys, sign contracts during this time.
The other half got a job offer in North Carolina. We moved right on the Lunar Eclipse. We took Greyhound and it was a trip from hell. I've never had this bad experience on Greyhound. Our bus got stranded in South Carolina when it broke down at some redneck gas station owned by a white lady who hated black people.
90% of the bus riders were black. Even the drivers. She called the police and they said we were not allowed on the property. We were stranded there for 4 hours. In the rain.
Then we finally got to Charlotte, NC. Greyhound gave us free food and passes for the trouble and we thought we were finally smooth sailing.
Wrong.
On our new bus, we were told to stay on until we get to Fayetteville by everyone. Then in Columbus, SC the driver was like, "hey there goes the Fayetteville bus with everything you own on it"
My crystals. My jewelry. Our clothes. I broke down in tears. The station in SC was not owned by Greyhound but a local company. Let me tell you they went out of their way to get our stuff secured and was relieved when everything was all together again.
We moved to NC for two reasons: his new job and his sister who is having a baby. We wanted to be close to family. They are from Jordan. I got to meet my 3 nephews and niece, learn how to make yogurt from scratch and eat home made Arabic food.
Fayetteville, NC
It's been up and down for me emotionally. But he has his job and so far it's good. We are still looking for a home, but in the mean time we have a place to stay thanks to his job. It's temporary so almost everything is still packed.
Oh, and I've been in the hospital twice thanks to bronchitis making the asthma flare up. Mercury Retrograde always has it in for me. Maybe it's because both my Rising and Moon signs are air signs (Libra and Gemini).
The Solar Eclipse.
I could barely breathe on this day, but I was able to set out some crystals and make this dedication:
I want my health back. I want stability and financial security for both of us. I want us to have a family and be happier together.
Then I went back to the hospital. I was planning on being outside to watch the eclipse but thought that wouldn't happen. It turns out the ER had the perfect view so we all did those selfie shots. My intuition told me to do it with my eyes closed. Click here for the photos.
I didn't get seen until 9 PM, and was planning to shell out $200 for a new inhaler. However, that eclipse manifestation started working fast. The doctor gave me one free. I'm slowly starting to feel better. Then I discovered this song and I think it will help you get through this wreck of a retrograde, too.
We have a little over a week left.
Listen to the music at 4 minutes in. Light some sage or incense. Or use oils or your favorite body spray. The beauty of this music centered me in a deep way. I have some Cherokee in me–the Eastern side so I am in the land of my ancestors. I also have a bit of German and Irish all from my mothers side. I have no idea what my fathers side is.
I feel I am in the right place for me at this time. Here, at Starbucks sipping my second caramel machiatto and writing. In a little town called Fayetteville.
Why I Am Telling You All Of This.
I don't want pity or you to feel bad for me. I am surviving and am grateful for every lesson I have had. Mercury doesn't like me when he gets his times of the year, but I've survived much worse. And if I can do that, then you can survive this retrograde to.
Listen to the music. Let it inspire you. Let it wake you up out of that fog created by the nonstop craziness of the eclipses and retrogrades.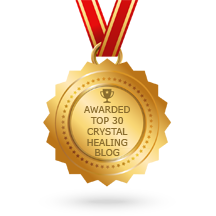 About Johnna Sabri
The Gem Diva
Hi, I am the owner of The Gem Diva's Rock Shop & Studio and this is my blog. I've been wire wrapping over 10 years and my story is unique since I've had a Grammy winning musician teach me the craft. Read more in my bio here.
The Gem Diva's Jewelry Club
The Gem Diva's Jewelry Club is an affordable way to grow your handmade wire jewelry collection. I love making jewelry and want to spread the love and light through my creations.
Each month, you will receive two beautiful pieces of handmade jewelry from me. There are a variety of styles and all will be made with real healing crystals, cleansed and blessed with a loving intention set for you.
Free Gift--Just Take IT!
Sign up and get three guides I've written about healing metals, my guide to buying wire jewelry and some crystals in my personal collection.
You Get:
1. Let's Get Stoned! This is an introductory guide to some of the crystals in my collection.
2. Guide To Buying Wire Wrapped Jewelry. This shows you types of jewelry, meaning of words such as gold filled and gold plated, and much more.
3. Metal Power. This talks about the healing properties of metals. Crystals are not the only ones that heal, ya know.
And you also get free updates on minerals, crystals, spiritual growth and so much more!
Earthy Elegance and Beauty
I listen to every gemstone and crystal to create a unique and one of a kind design that speaks to your soul with earthy elegance and beauty.
How It Works
I have a wide selection of crystals to choose from or if you have your own I can design something with it. I'll deduct shipping out of the cost (shipping your crystal to me).
You also have several metal options to choose from. My pricing guide is below, as well as a special pendant deal.
Custom Pendant Deal with Free Crystal $29
Your pendant is designed with copper and you can choose one of the following crystals:
Rose Quartz
Green Fluorite
Raw Emerald
Clear Quartz
Citrine
Amethyst
and more!