November's Giveaway
October's Giveaway was a bit complicated due to all the prizes but November only has one prize and one way to enter. Simply subscribe to my email list (I don't spam) and that's it.
The prize is a Lapis Lazuli pendant in copper with a grey Agate faceted bead. These two gems together promote psychic protection, 3rd eye activation, clearing of all chakras, grounding and divine communication.
Lapis also has Pyrite in it (the gold shiny veins) which is also promoting abundance, prospertity, and creates a shield of protection against negative vibes for the wearer.
The winner will be emailed privately on December 1, 2017
What Everyone Gets
When you sign up for the email list, you automatically get a free gift from me. It's a set of three ebooks all sent in your confirmation email.
The Ebooks are: 
Let's Get Stoned–an early one I did featuring my gems and minerals
Metal Power–teaches you that gems aren't the only one with vibey energies.
Guide To Buying Wire-Wrapped Jewelry–defines terms such as gold plated, gold filled, precious and much more.
To enter the giveaway, simply sign up here or via the pop up on the website.
Johnna Crider Sabri is a jewelry designer who works with real crystals and gemstones.
She was taught her craft by Grammy Award Winning Guitarist, Daryl Thompson (son of Eli "Lucky" Thompson) who also set her on her path to the development of her individual gifts.
As an Empath, Johnna is able to sense the unique energy of each crystal she works with and design it in such a way that the style compliments the crystal.
Johnna has been designing wire wrap jewelry for 10 years (started in 2007) and is always tweaking her unique styles.
Her work has placed her on the paths of many who need more than jewelry and that's what this blog is about: shining a positive beam of light into the world. Read her full bio here.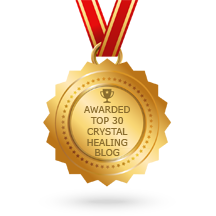 Latest Healing Crystal Designs
~Free Shipping in the US~